Lighting for the Writers' Shed | DIY Writers Shed Update
The current step in my writer's shed/home office is lighting. Getting additional wiring and outlets in the shed is easier and cheaper with bare walls than with drywall and insulation, plus it will make it a million times easier to work inside if I can actually see stuff. Illuminate the spiders and whatnot.
But picking out new lighting is a pain...
The main reason we went with all vintage lighting in our house is that new lights are so cheap and tacky looking most of the time. They look nice from a distance, but when you're close enough you can see how cheap and plastic all the components are. Or they look totally generic and have zero personality.
Interior Writers' Shed Lighting | Rustic Glam
I'd planned on putting up some type of drapey bare bulb chandelier inside, in keeping with the vintage vibes and adding a bit of glam.
This caught my eye.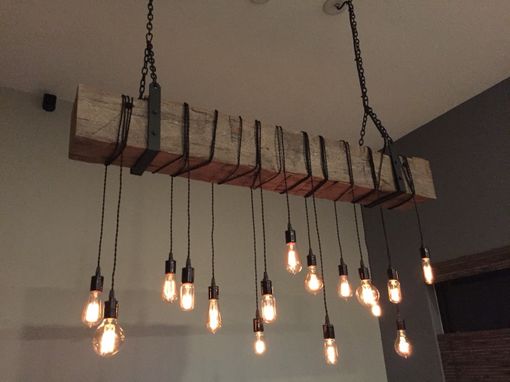 The exposed beams going across the top of the shed would be a natural complement to this type of multi bulb pendant light. But of course, this one's way out of my budget at $1,200.
Improvising on that sort of style, I tried eBay and Etsy but came away empty handed. Everything was too pricey (like $30 per strand), too elaborate, or overdesigned. It's going in a rustic shed with a brick hearth. It can't look that fancy.
I checked Amazon not expecting too much, but found something I think I can make work.
As intended for use, the light looks super weird and spider-like. But who says the individuals light strands need to connect to anything? I can hook each of the spider arms up to the main plate, then wind or wrap them around the beam at installation to hack the exposed beam pendant trend.
At least, that's what I'm hoping.
Exterior Writers' Shed Lighting | Rustic Animal Scaring Motion Sensor
For the exterior light, I'm deliberating. A motion sensor light is the most practical style since I don't care if the outside light is on once I'm in the shed.
Plus, I don't want to run into any creatures at night. And the yard is full of creatures.
But most of the motion sensing styles are totally ugly. I'm not putting a lame garage light on my shed.
I'm torn between a Mission style lantern and a more rustic barn feature; these are the two nicest motion sensing lights I can find.
Crackle glass looks cheap, but what can you do?
The Mission style lantern is pretty plain and will look fine installed. But it would go next to the door. Down the road if there's a lock on the door, it might not throw enough light to be fully functional.
The barn light seems more appropriate given the rustic farmhouse setting, and could go above the door to light the whole entryway, but it costs more.
I'm going to keep looking to see if I can find exterior writers' shed lighting I really like and get the lights in by the end of the year!